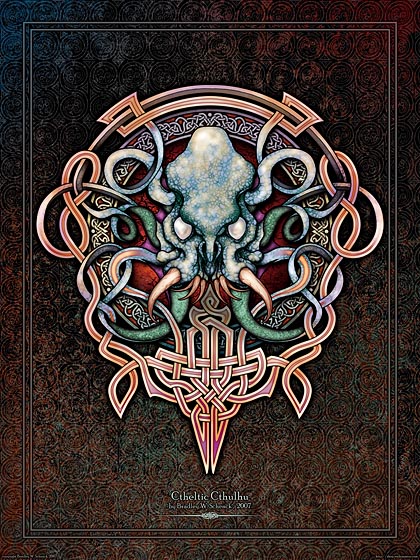 Ctheltic Cthulhu Archival Print (18x24")
Archival prints of
Ctheltic Cthulhu
are available in glossy or matte finishes from Deviant Art, for $40.00:

are priced slightly higher.
Here's a little bouillabaisse of Lovecraftian horror and Celtic art. A marriage not made in heaven, obviously, but given the subject - well, that's just fine.
Cthulhu, known among necromancers as "The Elvis of the Great Old Ones", is possibly not dreaming here - as we hope he continues to do - but its hard to be sure with those pearly eyes. Anyway his tentacles divide and dissolve into bands of Celtic knotwork in a way that pleases me.
The digital painting (Photoshop) was created for a T-shirt design for my newly relaunched Saga Shirts site, where I'm now doing a new line of full color shirt designs, rather than the silkscreened shirts I had there before.
The print version is a high resolution image full of eldritch detail and oddly batrachian textures. It's the perfect accent, I think, for that eighteenth century basement you've got; you know, the one with the odd wooden hatch bolted over what looks like some sort of well. With the scratching noises.
Orders for my archival prints are filled by DeviantArt. They're billed and shipped separately from merchandise ordered through the vendors who supply my other products.