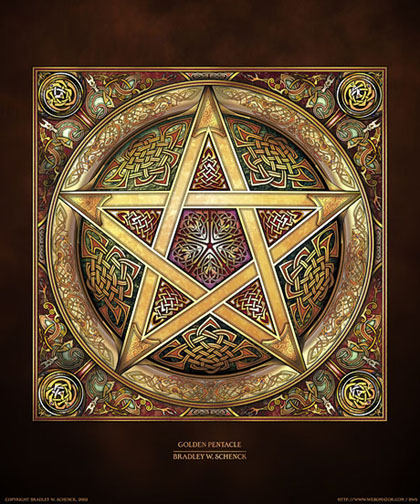 Golden Pentacle Archival Print (20x24")
Archival prints of
Golden Pentacle
are available in glossy or matte finishes from Deviant Art, for $40.00:

are priced slightly higher.
It's been a long while since I was a pagan (I just don't do gods any more), so don't jump to too many conclusions here; I simply wanted to do something interesting with a bold shape encrusted with knotwork, and I thought that this would be a really striking image. Eventually I did something similar with a Celtic cross, just to muddy the theological waters even more, or to give equal time, or something - because it's also a striking symbol in its Celtic version.
I've done two treatments of the pentacle, one gold, and the other silver; each one is essentially the same except for its palette.
There are eighteen "gripping beast" dragons - ten in the circle, eight in the corners - with several panels of interlaced bands - and of course the pentacle itself is here turned into a knotwork design.
Orders for my archival prints are filled by DeviantArt. They're billed and shipped separately from merchandise ordered through the vendors who supply my other products.