O'ffogerty Harp Archival Print (16x20")

Archival prints of
O'ffogerty Harp
are available in glossy or matte finishes from Deviant Art, for $38.00:

Lustre finish prints
are priced slightly higher.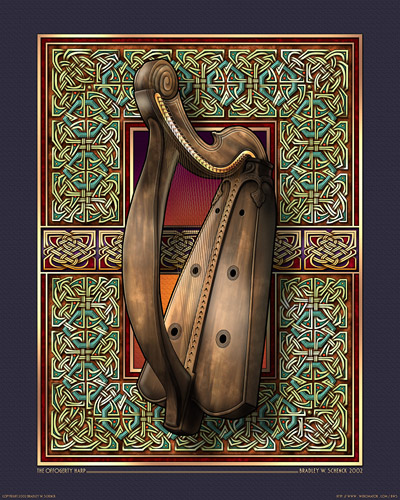 The Offogerty harp is a wire strung Irish (or Celtic) harp that dates from the 17th century. These instruments have a magical, ringing voice with a long sustain; their sound lies somewhere between a harpsichord and a bell.
This is a print of my digital painting of the Offogerty Harp - it's 16 by 20 inches in size at 300 DPI, and the image is based on a photograph from Robert Bruce Armstrong's The Irish and Highland Harps. Purists may note that I have taken a couple of small liberties with the painting.
Here the harp is superimposed over a bold Celtic knotwork border; faint interlace designs also appear in the background margins and the backdrop, behind the borders.
Once the property of Cornelius O'ffogerty, this harp is of the type we call a "large, low-headed" Irish harp, which is typical of the seventeenth century. It is not highly decorated but its lines are both striking and unusual among surviving examples - the large scroll at the end of the harmonic curve is its most distinctive feature.
Its soundboard was pierced for thirty-six strings, while the harmonic curve never carried more than thirty-five tuning pins. Because only thirty-four string holes are visible in the photograph I've chosen to string it with thirty-four strings - hopefully not further adding to the confusion.

About the Prints

These prints are made to order by deviantPrints, using an archival quality photographic process on Kodak Edge and Kodak Endura papers. They're rated to last over 100 years without fading - though no prints should be left where they'll be baked by direct sunlight. The color fidelity, clarity and paper weight of these prints is far superior to the poster-quality reproductions I also sell here. They're pretty much the bee's knees.
You can order a print in either glossy or matte finish, or in lustre finish for a slightly higher price. This is mainly a matter of personal taste, but I do think that the lustre or glossy prints give you a sharper representation of the original digital image because of their greater contrast.
When you add one of these archival prints to your prints shopping cart it will pop up in a new window. You can keep browsing through these pages and add new items as you go. The shopping cart window will update as you add more items. When you're ready to check out, do so in the cart window and you'll be taken through the ordering process.
Important Note

These archival quality prints are supplied by a different vendor than my other merchandise, and use a separate shopping cart. You cannot place a single order for both archival prints and, for example, coffee mugs. Archival prints will ship separately from other items.