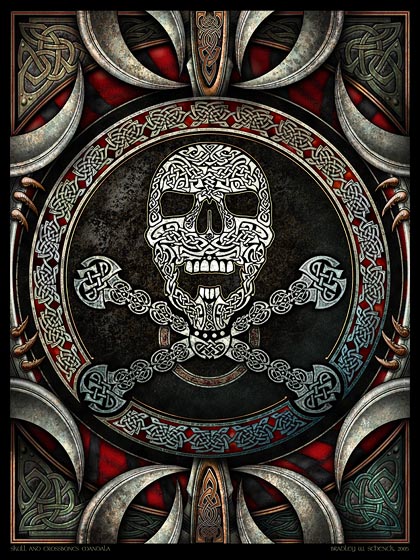 Skull and Crossbones Mandala Archival Print (18x24")
Archival prints of
Skull and Crossbones Mandala
are available in glossy or matte finishes from Deviant Art, for $40.00:

are priced slightly higher.
This is a large Celtic "Carpet Page" design, like the many full page, decorative pages in medieval illuminated manuscripts such as the Books of Kells, Lindisfarne, and Durrow; but of course the main motif is not a traditional Celtic one. It's an ornate emblem of piracy, like you'd find on a sort of pirate flag that, of course, you'd never actually find anywhere or anywhen.
This print is a 300 dpi printed copy of my digital painting. It's 18 by 24 inches in size.
In sober fact, none of the branches of the Celtic tree were famous for seafaring. The closest we'd come historically would be the Venetii tribe, on the coast of Gaul - what's still a Celtic territory today, though we now call it Brittany - and the Venetii probably almost always stayed in sight of land. Semihistorically, or maybe in the land of legend, there's also the Welsh prince Madoc and Ireland's Saint Brendan, who each embarked on an imram, or journey-adventure, to the far west.
But on the other hand the Irish, at least, were no strangers to the Caribbean in buccaneer days, if only because Oliver Cromwell had sold so many of them into slavery there.
So pardon me for mixing up my Pirates of the Caribbean and my Celtic Art. The fact is, I just really liked the idea.
Orders for my archival prints are filled by DeviantArt. They're billed and shipped separately from merchandise ordered through the vendors who supply my other products.