CELTIC KNOTWORK BORDERS IN REPEATING SECTIONS
A COLLECTION OF DECORATIVE BORDER DESIGNS FOR ARTISTS & ARTISANS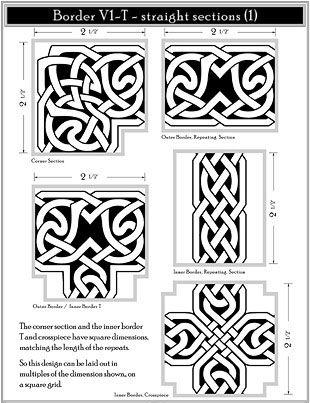 The second edition of my popular knotwork pattern book is a soft-cover version with all of the same designs and variations as the original, spiral-bound edition... and at a lower cost.
Now available for $13.95.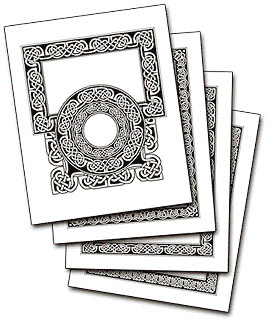 Celtic Knotwork Borders in Repeating Sections is a collection of original Celtic knotwork border designs presented in a way that's meant to allow artists the freedom to create knotwork borders in virtually any size, and practically any shape, that they want.
The book uses a modular system in which a border design is reduced to either two or five straight sections, plus a variety of arc sections with different numbers of repeats around a full circle.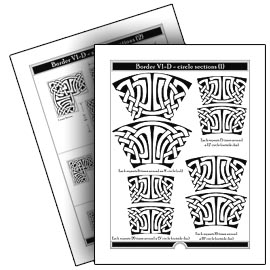 These sections are meant to be rotated as needed to form square, rectangular, or circular borders to use in your work.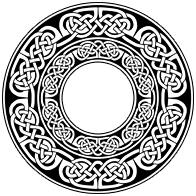 Not only are there straight and corner sections for each pattern, but every one of them also includes circle sections in several numbers of repeats around a full circle.
Half of the designs also feature "inner border" variations. These are designed to branch inward from the main borders with T sections, and the inner borders can cross in the middle of the border with the provided crosspieces.

The book's approach is based on the author's experience of more than 35 years, and it's intended to teach you to think about repeating patterns in a way that'll improve your own work - the idea is that the mechanical task of laying out a border should be streamlined, leaving you free to concentrate on the much more creative work of painting, carving, or dyeing it.

The text includes ideas on how to scale the patterns - they're printed here in many sizes, but it's inevitable that you'll want more - and that and other information is given for both digital and traditional artists.
When you buy the book, the designs are free for unlimited use within your own projects, both private and commercial. The only restriction on these rights is that you may not reproduce the pattern parts themselves, outside of your original art, for redistribution.
That is, you can use the designs in any way you like for your own work. You're completely free to sell that work, or reproductions of that work. You just aren't allowed to make a clip art collection out of them, or otherwise reproduce the pattern sections alone in a form that others can use.
Celtic Knotwork Borders in Repeating Sections is available from these merchants: