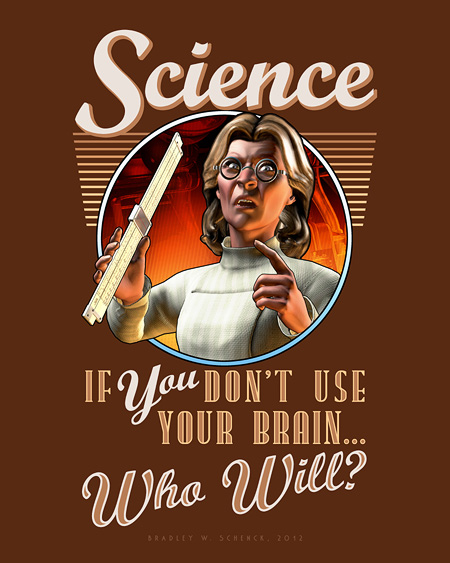 Science: If YOU Don't Use Your Brain... Archival Print (16x20")
Archival prints of
Science: If YOU Don't Use Your Brain...
are available in glossy or matte finishes from Deviant Art, for $29.94:

are priced slightly higher.
Nature abhors a vacuum, and so do we. Even if it turns out to be in between our ears. It's not so very complicated, is it? You've been given a remarkable organic calculating machine, adept at pattern recognition and inference, conveniently located on top of your neck. Right there, with the gooey bits. If you don't actually use it... someone else is likely to.
It is a sad fact of history, and of some other, less reputable disciplines, that when we don't give our brains a bit of excercise they're likely to start listening to ideas that aren't rooted in rationality. Don't let this happen to you! Just a thought or two a day may make ALL the difference!
Of course, if you're REALLY not going to use that brain of yours, several of my colleagues have expressed an interest. Step right up to the vivisectorium!
Orders for my archival prints are filled by DeviantArt. They're billed and shipped separately from merchandise ordered through the vendors who supply my other products.