The Retropolis Courier Service Archival Print (30x20")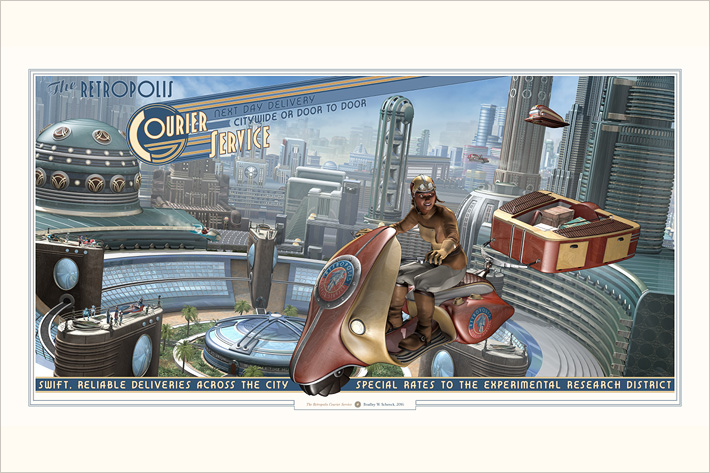 Archival prints of
The Retropolis Courier Service
are available in glossy or matte finishes from Deviant Art, for $48.00:

Lustre finish prints
are priced slightly higher.
Deliveries seem simple, don't they? Pick up Thing A from Place B, then take it over to Place C. But it gets surprisingly complicated if Place B is clear on the other side of the City of Tomorrow, hundreds of miles away; and if Thing A turns out to be a Cardiophilic Moisture Eliminator, well. Boy Howdy! You've got all kinds of trouble.
That's why we leave package deliveries to the valiant, well-trained delivery persons of the Retropolis Courier Service.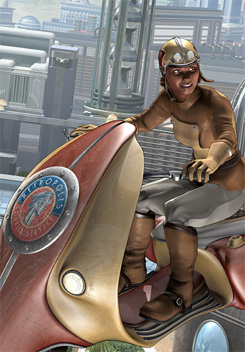 We've all admired their splendid livery, and we've envied them their compact, high-flying scooters; we've gratefully handed them our (usually non-Cardiophilic) packages, and we've taken their speedy deliveries from faraway parts.
Very few of us have sent anything into - or out of - the Experimental Research District. But if we have, or if we do, it will be a specially trained Route X Courier who makes sure that package arrives at its destination with a low, low incidence of unpleasant side effects. Special rates apply.
So here we see Grace Keaton, a Route X Courier herself. She seem to be the poster person for the Courier Service.
Grace is a character I invented for a sequel to Slaves of the Switchboard of Doom. She's now had a cameo in Professor Wilcox and the Floating Laboratory and she'll probably return in the sixth Retropolis Registry of Patents story.