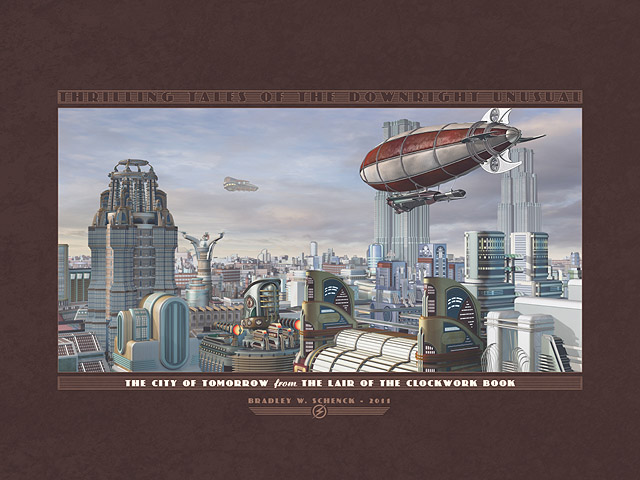 Thrilling Tales: The City of Tomorrow Archival Print (24x18")
Archival prints of
Thrilling Tales: The City of Tomorrow
are available in glossy or matte finishes from Deviant Art, for $40.00:

are priced slightly higher.
This is the first illustration from my serialized story The Lair of the Clockwork Book, at Thrilling Tales of the Downright Unusual.
It's an establishing shot - just so we know where we are, which is in the Retropolis of the Future That Never Was. I think the reader ought to see right off the bat that we're in that world where airships are everywhere, where cars (or rockets) fly, and where robots crowd the aerial walkways alongside the people of Retropolis. Because in a moment the reader's going to go under those gleaming streets to discover something a little older, a little less reputable, and a little more threatening: the Lair of the Clockwork Book.
This version of the illustration is based on the one at the web site, and in the book, but has been re-rendered and overpainted in a much higher resolution even than the book's version: 300 pixels to the inch, at 18 by 24 inches.
Orders for my archival prints are filled by DeviantArt. They're billed and shipped separately from merchandise ordered through the vendors who supply my other products.