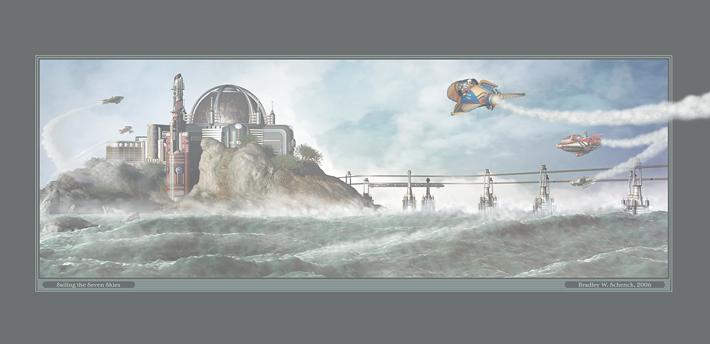 Sailing the Seven Skies Archival Print (30x20")
Archival prints of
Sailing the Seven Skies
are available in glossy or matte finishes from Deviant Art, for $48.00:

are priced slightly higher.
Sailing the Seven Skies is a panoramic 3D rendering of a seascape in the Future That Never Was - where five adventurous rocket pilots have set out for who-knows-where, and are well on their way there as they come upon a rocky island and its mysterious, art deco complex - served by the ever-reliable monorail of the Retropolis Transit Authority. We must not quite have left civilization yet, if that's still possible.
The rockets, as always, are my favorite open cockpit retro rocket roadsters - a mixture of some of my older ones and a couple that I've just modelled recently.
The buildings are also a mixture of old and new; I nearly regret not using a maritime version of Potsdam's Einstein Tower - and I'm sure I'll do that one, one day - but the dome seemed to be much more what the island needed. You've got to pay attention to what these things are telling you as you work on them. The island grew out of some landscape modelling experiments I was doing last year, which continue to bear fruit. Neat stuff.
The title is a phrase from Wings Over the Navy (1938), by Harry Warren and Johnny Mercer. The version I listen to is Lew Stone's British recording from the early days of WWII - and I think the British version's lyrics were retooled by Charles Dunn. But what may be the best line is common to both versions: We're high-sky riding aeronautical guys. I mean, beat that.
The print is an on-demand, open edition reproduction of my digital painting. Its resolution is 300 DPI at a full size of 30 by 20 inches. There's a border on the sides all around the image area. You can frame the print as is or matte it, if you like, to a different shape.
Orders for my archival prints are filled by DeviantArt. They're billed and shipped separately from merchandise ordered through the vendors who supply my other products.