Tanglewood Archival Print (10x12")

Archival prints of
Tanglewood
are available in glossy or matte finishes from Deviant Art, for $16.00:

Lustre finish prints
are priced slightly higher.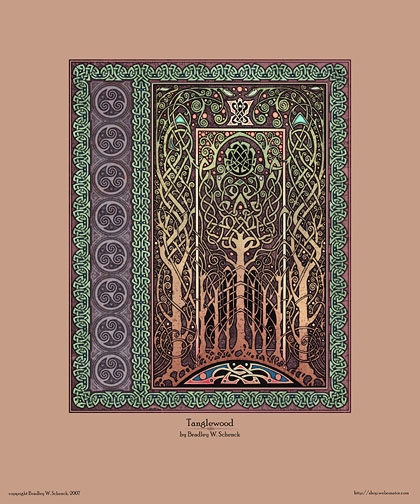 This is a digitally colored version of an ink drawing I did 'way back in 1985. I've tried a couple of color treatments over the years, but till now I hadn't managed anything that I really liked. I do really like this one.
It's softer than most of my recent digital knotwork, and it reminds me of my very early watercolor paintings - when I was really tinting drawings. The colors in those watercolors gradually grew stronger until I often omitted the inks altogether. So this piece resembles some of the paintings I did in the early 80's, while I was making that transition.
I picked this piece to do as part of a project I'd just completed. The outer knotwork border uses a pattern I created as part of my book of Celtic art designs.

About the Prints

These prints are made to order by deviantPrints, using an archival quality photographic process on Kodak Edge and Kodak Endura papers. They're rated to last over 100 years without fading - though no prints should be left where they'll be baked by direct sunlight. The color fidelity, clarity and paper weight of these prints is far superior to the poster-quality reproductions I also sell here. They're pretty much the bee's knees.
You can order a print in either glossy or matte finish, or in lustre finish for a slightly higher price. This is mainly a matter of personal taste, but I do think that the lustre or glossy prints give you a sharper representation of the original digital image because of their greater contrast.
When you add one of these archival prints to your prints shopping cart it will pop up in a new window. You can keep browsing through these pages and add new items as you go. The shopping cart window will update as you add more items. When you're ready to check out, do so in the cart window and you'll be taken through the ordering process.
Important Note

These archival quality prints are supplied by a different vendor than my other merchandise, and use a separate shopping cart. You cannot place a single order for both archival prints and, for example, coffee mugs. Archival prints will ship separately from other items.