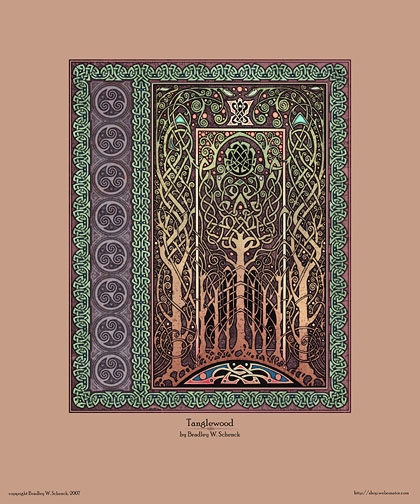 Tanglewood Archival Print (10x12")
Archival prints of
Tanglewood
are available in glossy or matte finishes from Deviant Art, for $16.00:

are priced slightly higher.
This is a digitally colored version of an ink drawing I did 'way back in 1985. I've tried a couple of color treatments over the years, but till now I hadn't managed anything that I really liked. I do really like this one.
It's softer than most of my recent digital knotwork, and it reminds me of my very early watercolor paintings - when I was really tinting drawings. The colors in those watercolors gradually grew stronger until I often omitted the inks altogether. So this piece resembles some of the paintings I did in the early 80's, while I was making that transition.
I picked this piece to do as part of a project I'd just completed. The outer knotwork border uses a pattern I created as part of my book of Celtic art designs.
Orders for my archival prints are filled by DeviantArt. They're billed and shipped separately from merchandise ordered through the vendors who supply my other products.