Each day
we'd soar past
the Art Deco towers of Retropolis in our flying cars, skimming over the monorail tracks that led past the outskirts of the city.

We'd live a life of leisure because the streamlined marvels of technology had made our daily labors a thing of the past.

Plentiful, clean energy would drive the rockets and the pneumatic tubes that kept the City of Tomorrow running.

Greenbelt communities would bring the farmlands close to home, and home itself would be close to the theaters and libraries of civilization.

But we'd keep our ray guns handy - there'd be no way of telling just when those Atomic Spiders were going to show up again.

It'd be swell, wouldn't it? Yep. It really would.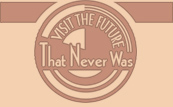 Now
available from Tor Books:
My illustrated novel, Slaves of the Switchboard of Doom - 21 Illustrated Chapters of Adventure!

"Remember when SF used to be upbeat and fun? Well, the fun is back and it's right here."
- F. Paul Wilson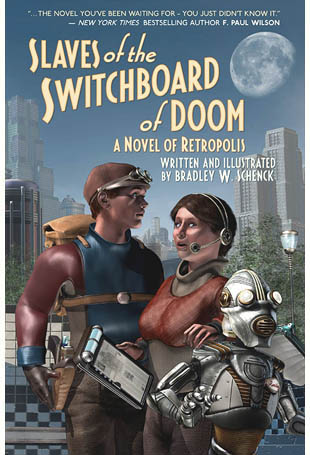 Slaves of the Switchboard of Doom
can be ordered from these merchants:
After a surprise efficiency review the switchboard operators of Retropolis find themselves replaced by a mysterious system they don't understand. So Nola Gardner pools their severance pay to hire Dash Kent, freelance adventurer and apartment manager, to find out what's happened to their jobs.
That ought to be easy for Dash, even if his practical experience is limited to heroic rescues (of what he calls entities) from the priests of the Spider God, in their temple at Marius Crater. But the replacement switchboard is only one element of a plan concocted by an insane civil engineer: a plan so vast that it reaches from Retropolis to the Moon. Dash and Nola race to find the hidden switchboard and solve the mystery, and they think they're on their own.
Of course they've got no idea how this plot has affected the Fraternal League of Robotic Persons, or the Ferriss Moto-Man Company, or even those infernal children from the third floor. And while everyone scrambles to save their jobs - or their freedom - the world's smallest giant robot is striding toward its destiny. An inch or two at a time.
Retropolis has found ways to contain its abundance of Mad Science. But in Slaves of the Switchboard of Doom we find that when engineers go mad. . . they know how to build madness on a scale that's never been seen before.

And from Radio Planet Books:
Patently Absurd, the complete Files of the Retropolis Registry of Patents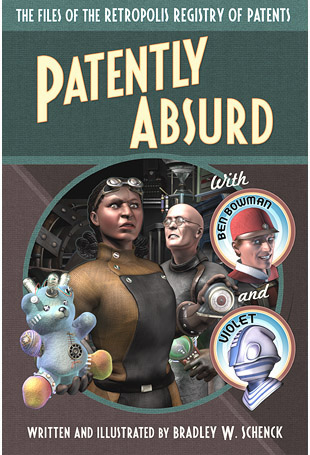 Patently Absurd
can be ordered from these merchants:
Six stories; forty-four illustrations; 260 pages; one Patent Investigator; one slightly maladjusted robot secretary; and more Mad Science than you can shake a centrifuge at.
Patently Absurd collects the Files of the Retropolis Registry of Patents - including their conclusion, seen here for the first time - into one absurdly illustrated volume, available in print and digital formats in bookstores and online.