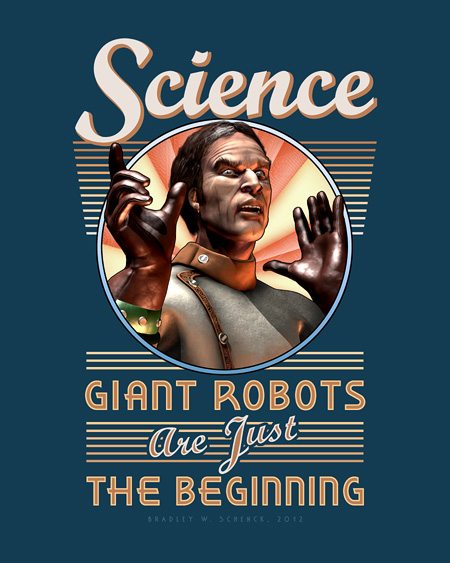 Science: Giant Robots Are Just the Beginning Archival Print (16x20")
Archival prints of
Science: Giant Robots Are Just the Beginning
are available in glossy or matte finishes from Deviant Art, for $29.94:

are priced slightly higher.
Science: Giant Robots are Just the Beginning!
Every mad scientist must begin somewhere: so what do we suggest? Giant Robots! Yes! With the latest, newly improved SCIENCE you can assemble your own towering automaton in mere hours, and then watch it take its first lumbering, fire-belching steps out and about... into history!
That's what makes scientific inquiry so very exciting - because as amazing as it seems, that's just the first project you'll undertake in Immense Automatons 101!
Join us at the Retropolis Academy for the Unusually Inventive for your advanced or continuing education course in SCIENCE. Before you know it, you'll be guiding the adorable, city-smashing first steps of your very own Giant Robot... and looking forward to even more earth-shattering experiments in the finest traditions of the Experimental Research District!
Orders for my archival prints are filled by DeviantArt. They're billed and shipped separately from merchandise ordered through the vendors who supply my other products.