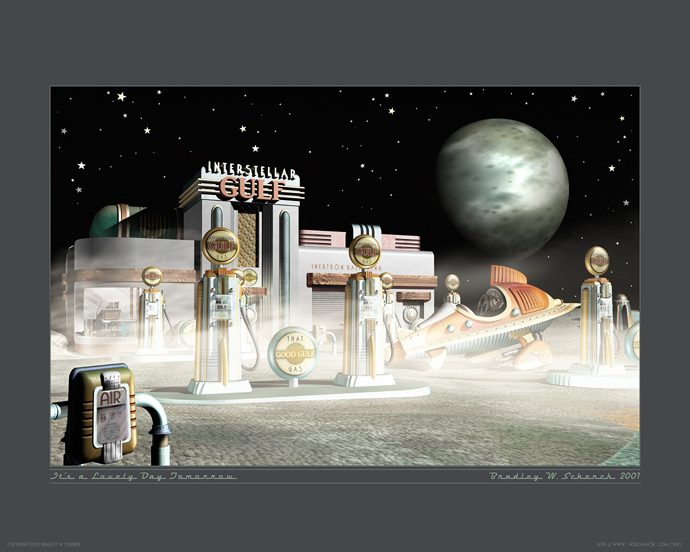 It's a Lovely Day Tomorrow Archival Print (20x16")
Archival prints of
It's a Lovely Day Tomorrow
are available in glossy or matte finishes from Deviant Art, for $38.00:

are priced slightly higher.
This is a 16 by 20" print of one of my 3D-rendered computer graphic images. The gas station in the picture is based on an actual gas station design from the 1930's, and you could say that the future shown here dates from that decade, too.
This is probably the last gas station between Tycho and Phobos, on the Route 66 of the Future That Never Was - the sort of future that Buck Rogers and Flash Gordon lived in, full of personal rocket ships, lighter-than-air metals, rocket packs, ray guns and friendly, helpful robotic gas station attendants.
The original image measures 6000 by 4800 pixels and is reproduced at 300 DPI. The print includes a solid color "matte" so that it can be framed as is or could be matted to the full 16 x 20" or any other size you'd like.
Orders for my archival prints are filled by DeviantArt. They're billed and shipped separately from merchandise ordered through the vendors who supply my other products.